If you were going to choose one place in the angling world with the highest probability of catching the most prized exotic game fish in the world, that place would have to be Cabo San Lucas. That's because, year after year, there are more striped and blue marlin and other prized pelagics – huge yellowfin tuna, dorado, and wahoo – caught within 25 miles of the cape of Baja California than anywhere else in the world.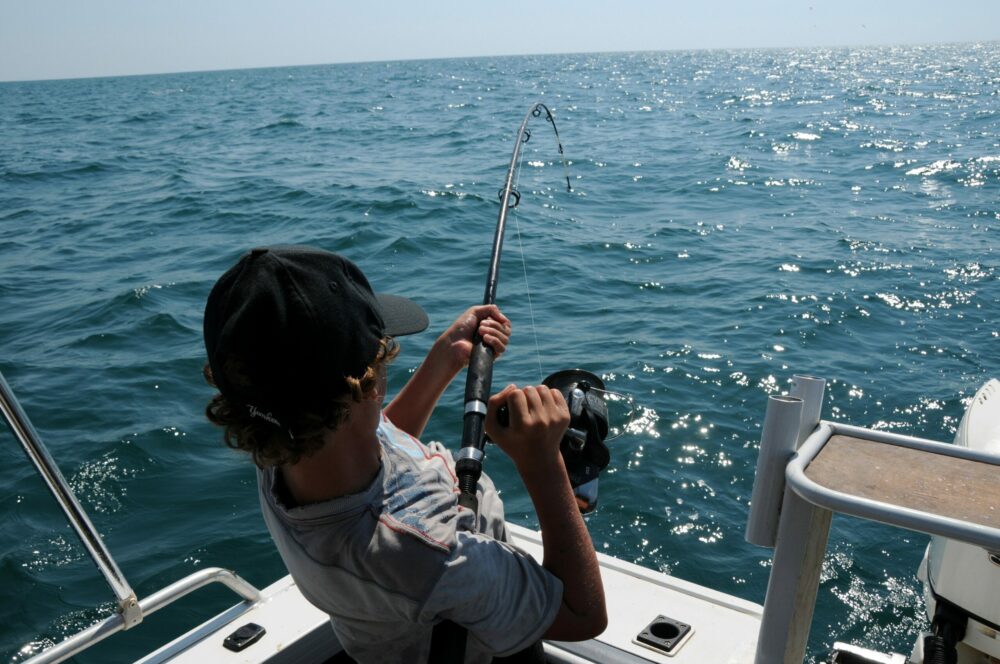 Why Fish in Cabo San Lucas?
First of all, Cabo San Lucas is located at the juncture where the warm waters of the Sea of Cortez meet the cooler waters of the Pacific. For you trout fisherman, this would be analogous to the current seams on a good trout stream where a "scum line" forms and food from both currents is combined and concentrated. In this case that current seam, where water from the gulf side of Baja meets the current from the Pacific side, may extend many miles out to sea off the tip of the cape. 
Secondly, there is a very deep canyon ranging from 500 feet deep to more than 5,000 feet just a few miles off the Baja coast. This deep chasm forms a perfect vertically integrated habitat for nutrients, plankton, huge populations of baitfish and, that's right, an extremely large and hungry population of marlin and other exotic game fish.
Water temperature is another factor in producing the abundant fish populations here. Billfish generally prefer water temperatures from the mid-70s to the mid-80s, and the tropical sun provides sustained heat all through the summer to create balmy water temperature conditions. Other warm water currents generated north in Bahia Magdalena (the large bay on the west coast of Baja) are carried along the coast to further ensure consistently warm water temperatures.  For information on the best time of year to fish Cabo, please see our fishing charts section.
In general, most of the good fishing grounds are found within a twenty-mile radius of Cabo. Concentrations of smaller game fish and baitfish concentrations can be found close to the coast, usually inside the fifty-fathom curve.  As a result, most of the productive grounds are within a half-hour by boat from the marina. The prime fishing locations are Cabo Falso, the Jaime Bank, or the Golden Gate Bank twenty miles northwest of Cabo and about eight miles offshore. Other productive areas include the popular Gorda (commonly mispronounced as "Gordo") Banks off San Jose del Cabo with abundant sailfish, tuna, and wahoo, and plenty of striped and blue marlin.
For more information on the most popular fishing grounds, please refer to our maps section.
How To Insure Fishing Success in Cabo San Lucas
Probably the best way to ensure fishing success, especially if you're relatively new to the Cabo area is to charter a cruiser or panga with one of the many charter companies in the area. This, of course, involves some expense.
A Cabo cruiser is usually a 25 to 35-foot flybridge fishing boat that departs the marina at 6 or 7 a.m. and gets you back in sometime in the mid-afternoon. With this arrangement, you have the advantage of having all the required tackle provided and the expertise of a skipper whose livelihood depends on putting his clients on good fish. This arrangement can run upwards of $500 per day, including $30-$50 in crew tips, $20 for 10 or 12 live baits, $20 for beer, lunch, and other refreshments on the boat, and $5 to $10 for fish filleting (let's hope!).
A less expensive way of getting to the same fishing areas, but with some sacrifice in luxury, is to use one of the plentiful pangas in the area, usually 18 to 22-foot open fishing boats, with similar fishing gear on board. A panga can put you on the same fish that a cruiser can, and at a cost of about half of what a larger charter boat would cost.
All sport fishing charters in Los Cabos will provide you with everything you need for a successful day on the water, including tackle and a box lunch.  If you'd like to bring your own gear and food, that's okay too.  Sometimes a fresh roll, some local cheese, and avocado or fruit, along with a couple of beers or soft drinks, is all you need to get you through a good day's fishing.  Extra fresh water is always good to have, and make sure you bring highly protective sunscreen.
One word of advice. If you're lacking in Spanish language skills, a little inquiring around to find a captain with a basic English vocabulary, at least with fishing directions, may save you some awkward moments. The first time I fished Cabo I knew very little Spanish and had a high-strung non-English-speaking skipper on a panga we had chartered for 2 days. That language barrier, while not severe, prevented those two days of fishing from being as enjoyable as they otherwise might have been.